Coda Home
Welwyn Garden City
Live Music Venues
Reviews
Coda Recording
The Troggs
Roger LaVern (Tornados)
Tim Rice
Caroline Cronin
Colin Frechter
Bob Barratt
Clem Cattini
Sherlie Mae Matthews
Donovan Leitch
Kenny Hollywood
Dave Barber
The Hop
60's Local Music Scene
Phase One Disco
Music Shops
Our Radio Friends
Playing Live Pics
Site Map
Visitor's Messages
WMA Jazz Reunion
Bunsfield Explosion
Attimore Hall School 1967

To contact Colin click on the link below


Colin photographed while working in Spain.
Did you receive many calls on your personal wall phone, Colin?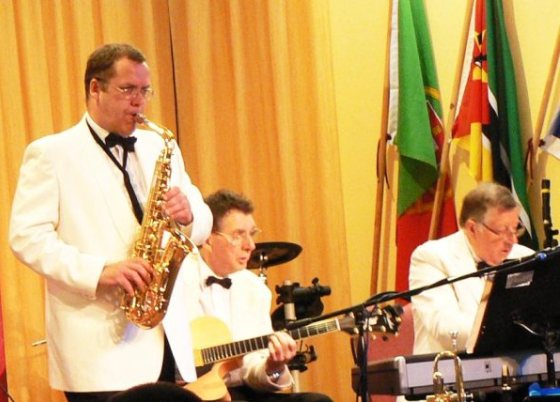 Colin Performing in Haselbury Plucknett Near Yeovil on 24th April 2010 with a local jazz band. Click here to see more pictures from this concert.

Colin providing the music for the 2010 pantomime "Aladdin"

From mid September 2004 to 2007 Colin was busy working in Spain. He entertained as a solo keyboard player / vocalist in a prestigious golf club, as well as gigging with "Los Mosquitos" a nine piece Blues Brothers, Motown and Stax band. Colin says, "It was great fun, if a lot of hard work pulling them all together". He also found time to gig with a five piece jazz band fronted by lovely lady vocaliste Sue K. Sue now lives in London.

Colin, far right, performing with a local Somerset jazz group in 2008
Until Aug 2004 Colin was resident Keyboard Player / vocalist at

Colin Frechter
Colin was educated at Aldenham School, Elstree and after a spell as a shop assistant at Harrods, went into the R.A.F. as a clarinet player in 1958. He spent 2 1/2 years in No. 2 regional Band (Far East) at Changi, Singapore. On release from the Air Force in 1961, he worked for music publishers Francis, Day & Hunter and then as Musical Director for Page One Records. It was at Page One that he was involved with The Troggs as musical director, ocarina player, keyboards and backing vocals). 'Wild Thing' and a string of hits followed.
In 1967 Colin went freelance as an arranger, conductor, composer and session musician. He has continued to do this ever since, working with many top artists.
Click here to see a list of singles that Colin has made
He has arranged and composed T.V. jingles, film scores ("Sell Out" - Oliver Reed, Richard Widmark & Gayle Hunnicutt) and children's cartoon scores ("Barney" & "The Shoe People"), conducted the London Philharmonic, Royal Philharmonic, Czech Symphony as well as many radio, T.V. and session Orchestras.
Colin has played piano with bands such as Johnny Howard, Bob Miller, Ross Mitchell, Don Hunt and Colin Keyes, as well as touring with the 'Kids From Fame' and 'Care Bears' shows. He has also been resident M.D. / Keyboards at 'Caesar's Palace' (Luton) and the 'Circus Tavern'.
He also has played keyboards for many pantomimes, including 'Dick Whittington' at the Wimbledon Theatre in 1998, that starred John Nettles (Jim Bergerac from Bergerac & Inspector Barnaby from Midsomer Murders), Leslie Joseph (Dorien in Birds Of A Feather), Jeffrey Holland (Spike from Hi-De-Hi) and Bill Pertwee (Hodges from Dad's Army).
On Friday and Sunday evening, during June 2004, Colin was at The Boatman, 234 Jamaica Road, Bermondsey, London SE 16. The Boatman's regular keyboard player, Cliff Hall, was touring with "The Shadows".

The Boatman
Colin is currently living in the West Country and he is enjoying playing local gigs as well as enjoying a successful yearly pantomime season where he is M.D. Since moving to the West Country Colin has won several awards including "2008 Best Solo Musician" and "2009 Busker Of The Year".
Colin Frechter's biography appears on this "Eurovision Song Contest" site, Eurovision Artists
Although the musicians in Spain will be very sad to see Colin leave, he has decided to return to the UK - Aug 2007
Colin has moved to Spain. On Tuesday 7 September 2004 at 8 pm Colin left the UK on P & O's 'Pride Of Bilbao' for the 36 hour cruise to Bilbao in northern Spain. He has a years work with musician friends who live in Spain. Already lined up are regular Friday and Saturday evenings at a prestigious golf club. We wish him every success with his new venture. More news soon.
On Monday 8th December 2003 (8:00 - 11:00pm) Colin provided the backing music at Jack Jaffe's The Singers Club, The Royal George, Gosletts Yard, Charing Cross Road, Central London.
Colin, on Thursday 04Dec03, assisted Elaine Paige as she prepared for her concerts in New York. He helped her sort out key signatures for some new songs.
On Thursday 29 August 2003 Colin provided the music for the Vodafone Variety Club Three Day Golf Championship at Wentworth Golf Club, Sunningdale. Also with Keyboard player Colin were Colin Farley (Cutting Crew) on bass guitar and Clem Cattini (Tornados) on drums. They also provided the musical backing for cabaret comedian Tom O'Connor. Over £31,000 was raised at the event, with many celebrities in the audience, including; Henry Cooper, Gary Lineker, Jimmy Hill, John Conte and Jimmy Tarbuck
On Monday 15th September 2003 (8:00 - 11:00pm) Colin will be providing the backing music at Jack Jaffe's The Singers Club, The Royal George, Gosletts Yard, Charing Cross Road, Central London.
During June 2003, besides his regular gigs at the Ancient Foresters (see above) Colin has also been working at The Boatman, Jamaica Road, Rotherhithe on Friday and Sunday evenings. The Boatman's regular keyboard player, former member of "The Shadows", Cliff Hall, has been away in Finland touring with another former member of "The Shadows", guitarist Bruce Welsh.
During the week, 28th - 31st January 2003, Colin was in Blackpool, Lancashire, with his friend, producer extraordinaire Bob Barratt. They were recording another album with one of the world's best organists Phil Kelsall. Watch out for a new Phil Kelsall CD later this year.

Colin outside the former CTS Studios, Wembley. This was to become one of the very last sessions held there before CTS Studio's closure.

Colin has worked with The Four Tops, The Bay City Rollers (receiving a gold disc for the single 'Bye Bye Baby' and L.P. 'Once Upon A Star'), Elaine Paige, Showaddywaddy, Mud, Nazareth, Elton John, Take That (including Robbie Williams), Shakin' Stevens, Brotherhood Of Man (including 'Save Your Kisses For Me'), Soloman King, Cilla Black, Sacha Distel, Lena Zavaroni, Cliff Bennett, Roger LaVern (original Tornados keyboard player), Coco, Des O'Connor, Guys 'n' Dolls, The Kings Singers, Dominic Kirwan, Clem Cattini's Tornados, Lynn Holland, Dame Edna Everage and Sir Les Patterson.

One artist that Colin is still hoping to work with is Paul McCartney. Sadly, on the three occasions that Paul has asked Colin to arrange for him, Colin was too heavily involved with other artists. He even had to turn down the opportunity to work on, it is believed, 'Mull Of Kintyre'!