Coda Home
Welwyn Garden City
Live Music Venues
Reviews
Coda Recording
The Troggs
Roger LaVern (Tornados)
Tim Rice
Caroline Cronin
Colin Frechter
Bob Barratt
Clem Cattini
Kenny Hollywood
Dave Barber
The Hop
60's Local Music Scene
Phase One Disco
Music Shops
Our Radio Friends
Playing Live Pics
Site Map
Visitor's Messages
WMA Jazz Reunion
Attimore Hall School 1967

Why not send a note for the visitor's messages page?
E-mail Coda by clicking on the link below

No Frontiers
---

Cruisin' Mooses
Martin Matthews (gtr/vx), Bob Henritt (hidden dr, formally with Argent & Unit 4 + 2), Jimi Parrott (bs/vx) and Mark French (ld gtr) pictured at the Plough & Harrow.
---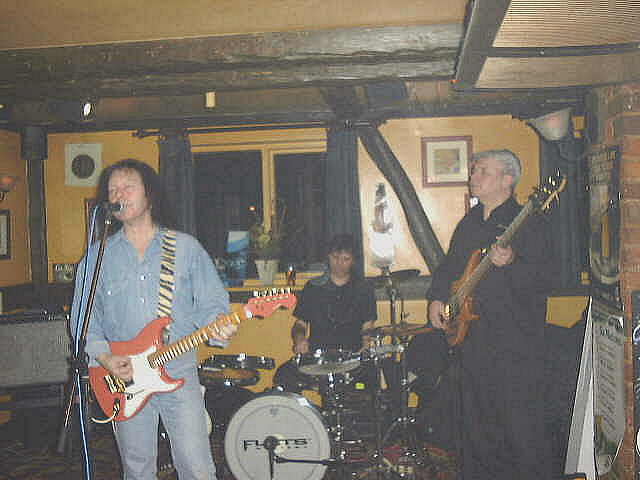 John Verity Band
Quality blues from the top local blues band. John (left), former Argent guitarist and former Argent drummer, Bob Henritt (centre) still perform Argent's hit track "Hold Your Head Up". Mark Griffiths (right), is former Matthews Southern Comfort and The Shadows bass guitarist. Both Bob and Mark toured with former The Shadows lead guitarist Hank Marvin as members of his band.
---

The Worx
---

Somebody Else's Problem
Somebody Else's Problem pictured at the Plough & Harrow on Monday 25 Aug 03. For the latest S. E. P. news visit their website www.seplive.co.uk
---

Cobra
Rock trio from the Isle Of Wight
---

Who's Ya Daddy
Perform Pop, Rock, Motown, Soul & Disco tracks.
---

Who's Ya Daddy
Visit Who's Ya Daddy website.
---
---
---
---
Top

Next >>